As an IT professional, how could I possibly get scammed? I thought for sure that I knew better! A popup Virus Alert appeared on my Macbook Pro in what looked like a message from Microsoft, telling me that my laptop had been infected by a virus. Naturally, I thought this must be legit, because the message look authentic.  I panicked and paid $50 for what was not, in reality, a Microsoft Security Update. The Russians Scammed Me with a Phony Microsoft Virus Alert!
After the payment was made, my second thought kicked in and I called Microsoft.  They told me that Microsoft will NEVER send a popup window message alert to your computer. How do I know it was the Russians? Because when my credit card statement came in the mail, there was a line item of $50 paid to a Russian company.
Have you seen these Popup Window Alerts?
If your web browser is constantly being redirected to sites that display Tech Support alerts, asking you to call a support number to fix your device, then it is possible that you have a potentially unwanted program installed on your machine.
Microsoft and Apple do not send unsolicited email messages or make unsolicited phone calls to request personal or financial information or fix your computer.
Treat all unsolicited phone calls or pop-ups with skepticism. Do not provide any personal information.
What these Scam Popup Windows Look Like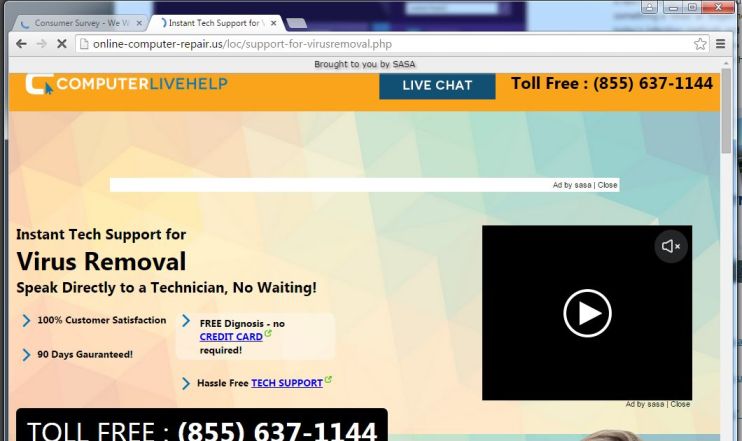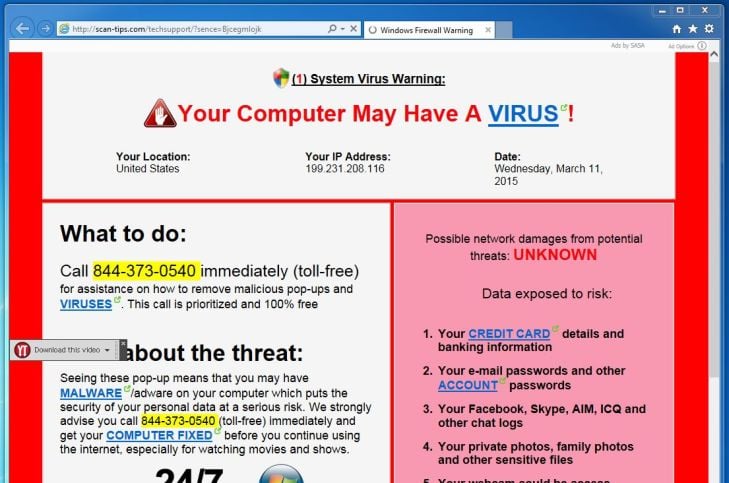 These bogus Tech Support alerts are shown in such a way as to trick the user into thinking their computer has crashed or that a virus has been detected on the computer. It does this to try and scare the infected user into calling one of the listed numbers in order to receive support. In reality, though, they will only be greeted with people who are trying to sell them unneeded support contracts and services.
Don't Call These Scammers and give them access to  your computer!
The scammer will typically attempt to get the victim to allow remote access to their computer. After remote access is gained, the scammer relies on confidence tricks typically involving utilities built into Windows and other software in order to gain the victim's trust to pay for the supposed "support" services, when the scammer actually steals the victim's credit card account information.
Read this. Does it sound familiar?
These Tech Support Scam Pop-ups will have the following fake alerts:
You might be infected with adware / spyware virus
 Call 1-866-928-0684 immediately. Fast assistance with removing viruses.
 (Toll-FREE, High Priority Call Line)
 What you must do:
 More about the virus:
 Seeing these pop-up's means that you may have a virus installed
 on your computer which puts the security of your personal data at a serious risk. 
 It's strongly advised that you call the number above and get your computer fixed before 
 you continue using your internet, especially for shopping.Possible Privacy Breach if virus 
 not removed immediately:
 Data exposed to risk:
 1. Your credit card details and banking information
 2. Your e-mail passwords and other account passwords
 3. Your Facebook, Skype, AIM, ICQ and other chat logs
 4. Your private photos, family photos and other sensitive files
 5. Your webcam could be accessed remotely by stalkers with a VPN virus
These fake pop-ups and messages are nothing more than a scam, and you should not purchase anything from numbers listed in these alerts.
Whatever you do, please do not call the phone number for support because it is not Microsoft's but rather a group of scammers waiting to rob you of hundreds of dollars under false pretenses.
If you encounter a problem and don't know what to do, take your device to a reputable business that offers a guarantee on any damage.